In the American market of aromatherapists (prestigious cosmetic companies like Kiels and l'Occitane en Provence have introduced Corsican immortelle in tiny proportion in their formulas),
one can purchase one dram of pure Corsican immortelle essential oil for a minimum price of $85.
As founders of Corsican Soaps and Cosmetics under our trademark Scent Seas, we believe we can offer, even to the most demanding customers in the USA, our wide range of skincare products with an irresistible price range. We only use natural and precious ingredients and our products are, of course, cruelty free, safe for the environment, organic and totally made in France.
We also carry a warranty of quality with the strictest controls and regulations. We are confident and proud that when you test a few of our products, you will immediately see their benefits on your skin and will want to post pictures on your social media sites to spread the word.
Quality of this type does not exist often these days and this is why we feel so bold.
Below we have described the properties of the essential oil and the four top products we think you will higly enjoy, containing this exceptionnal oil. All these four products can be applied on the face and the eye area.
The day cream

, the silky regenerative immortelle cream, penetrates quickly and does not leave any oily film. You can apply your make up right after as it contains many precious active natural ingredients like organic rice bran and flaxseed oils. You don't need to apply a big amount to be efficient.
The repair immortelle balm

is rich. It does not mean it is oily, you just need to apply the right quantity your skin requires. It is more beneficial to apply at bedtime to be more active and wake up with a very smooth and deeply moisturized skin. It can also be applied on any itchy or burned skin to soothe.
The Serum or Elixir

, can be applied any time, day or night as it penetrates quickly. It is formulated with an organic jojoba oil basis which you can enrich with your daily cream to enhance its benefits.
Stella di Mare

is a very precious oil that replaces all the creams. It is an exceptional anti-wrinkle and is very active against dark stains as it repairs, rejuvenated and fights against wrinkles all around your eyes. And, we don't mind saying, It smells divine! Formulated with borago, rosehip, kukui, hemp, wheat germ, macadamia,...oils with immortelle, jasmine and ylang ylang.
Let's explain how the main active ingredients benefit to your skin active ingredient
immortelle essential oil : Everlasting Immortelle Essential Oil is a floral oil of ethereal, exquisite and ennobled proportions. This enchanting essence is wild harvested in the high altitude rocky cliffs of the Corsican countryside.. Known alternatively as Everlasting flower, Sun Gold oil, this-our oil is steam distilled from the precious petals of the Helichrysum italicum flower. It is wild-crafted on the island of Corsica (for our plantations in the high mountains surrounded only with pure nature), where the flowers can prosper under a gorgeous yellow sun. In the rocky Corsican cliffs, the flowers grow at an altitude of 4,000 feet. The chemistry of this high altitude soil makes the oil more beneficial than any other immortelle variety and distillation. It is a powerful anti-hematoma, is active on healing wounds, scars, stretch marks, rosacea and calms the symptoms of dermatitis. It is

a natural way to lessen the presence of fine lines and wrinkles

Immortelle Essential Oil is one of the top performing oils in the Aromatic Assembly, especially for skin care. However, it is not just rarity that makes true,

Helichrysum italicum

, Immortelle Essential Oil so in demand! This gem has potent restorative properties that dramatically improve the appearance of skin imperfections.

It has breathtaking emotional benefits simply by inhaling this honey- scented elixir, which is known to help process emotional pain and make transcendent understanding finally possible.

Whether you wish to restore the skin or rejuvenate the spirit, Living Libations Immortelle Essential Oil will make you feel like an immortal golden flower, blessed by sunshine. Uncover the deep, hidden layers of your most vibrant skin and unlock your own everlasting radiance!

frankincense

essential oil, boswellia carterii: caring for dry skin and wounds ; it stabilizes the secretion of sebum and tighten the epidermis; also bactericidal and healing, it could prevent tasks

rice bran oil

is rich in vitamin E, it contains in itself over 100 antioxidants. In Japan, this oil is used as a gentle exfoliant for the skin. Apply to dry, sensitive and irritated for its soothing, nourishing, moisturizing and restructuring skin. Excellent anti-wrinkle. Drains and effectively decongest edematous areas such as pockets or bags under the eyes, in the morning. Protects naturally against UV.

flax seed oil: recent scientific research has given evidence that Flaxseed oil is an effective treatment for wrinkles. It helps to repair the skin's cells, showing a marked improvement in elasticity, firmness, tone and texture. It's beneficial for the rehydration of dry, itchy skin because the essential fatty acids prevent the skin from drying out and keep it moist. Its anti-inflammatory properties help to minimise any irritation of the skin or redness, meaning that sunburn or a skin rash may heal quicker once a little of this soothing oil is applied. Flaxseed oil is extremely beneficial for chronic skin conditions, such as rosacea, acne, dermatitis, eczema or psoriasis, the fatty acids act to balance out the skin's own oils and reduce any inflammation, helping the skin to repair.
shea butter(organic): feeding and protecting the skin and hair.It allows the skin to better defend against attacks and dehydration.

beeswax is unique for its film-forming properties, moisturizing, protective vis-à-vis our environment assaults sweet almond oil is very soothing, nourishing and moisturizing for dry skin. It softens and tones the skin, even irritated. It is also suitable for eczema prone skin or dermatitis
aloe vera rich in vitamins A, E, B, and essential minerals. It helps cell healing and regeneration; is a skin moisturizer, anti-inflammatory, antibiotic.

Crème soyeuse régénérante

à l'Immortelle corse
organic Silky regenerating cream
with Corsican Immortelle
• activates the microcirculation
• nourishing and regenerative
• leaves no greasy film
• healing and soothing
Apply a thin layer on the face and the eye area.
Your skin will be truly transformed
crème régénérante et soyeuse immortelle BIO, remplace la précédente
Crèmes
soyeuse à l'immortelle et oliban 30 ml bio, perfermormance contour de l'oeil optimale
Disponibilité immédiate
Ajouter
baume réparateur à l'immortelle corse bio
Repair and regenerative organic immortelle balm
made with organic Immortelle essential oil.
This balm is enriched with natural tensor, moisturizing, nourishing and decongestant ingredients.
• dark circles, puffiness, facial signs of fatigue are dimmed for optimal tolerance of the contour of the eye. Help to regenerate and heal damaged hands and body parts.
• The application of our regenerating and rejuvenating balm will have on your skin exceptional anti-wrinkle effect. The Immortelle is good to improve your acne and may reduce rosacea.
The balm contains 100% active ingredients; it is a real beauty elixir to apply preferably in the evening on the face and after showering or bathing on the body, on a damp skin. It contains no preservatives or colouring.
Your skin will be truly transformed.
baume réparateur immortelle
baumes
régénérant, cernes, plaies 30 ml
Ajouter
Elixir Immortelle Corse bio
anti-aging serum
smoothes intensely,

firms, rejuvenates, carefully restructures, nourishes


exceptional efficiency on fine lines around the eyes, heals, penetrates instantly, helps reducing bruises, bumps

may help in soothing symptoms due to dermatosis, naturally protects from the sun with an indice of 5.

help soothing burns, acne, redness and irritation,

excellent on any type of skin, excellent after shave, eye makeup remover

Apply a few drops on your fingers, and massage thoroughly on your face and eye area. It penetrates quickly. You can use the serum as a treatment by itself or adding for more benefits in one of our cream. Apply on a clean face in the morning or in the evening.
You can also apply on wound, scar, oedema directly.
Elixir immortelle
huiles visage
lisse, raffermit. non grasse. anti-rides 50 ml

Ajouter
Stella di Mare

     is our natural Anti wrinkle, restorative, 

concealer, exceptional stain concealer,
incredibly penetrating and non-greasy

powerful healing and anti-stain

reboosts the microcirculation


soothes the symptoms of dermatoses
fight rosacea and acne, rebalance the ¨PH


revives the complexion of dull and tired skin

improves skin tone, moisturization,

  with no conservative, only vitamin E
Suitable for young and mature skin, it helps to

 rebalance as it contains rosehip (very precious

 oil) and immortelle, but also ylang ylang, 

vegetable oils from olives, borage, hemp,

 macadamia, wheat germ, kukui.
Stella di Mare, océan pacifique et méditerranée
huiles visage
huile non grasse peauxjeunes et matures 50 ml
formulation rare et précieuse
Ajouter
skin repair oil, for body and face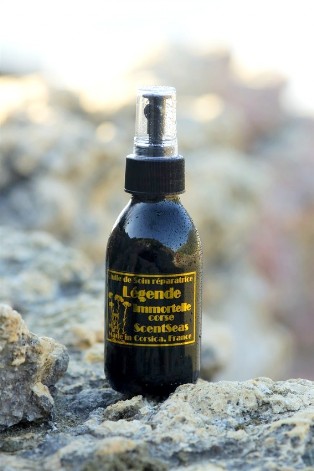 Légende immortelle corse
huiles corps et cheveux
Huile de soin réparatrice Immortelle 150 ml

Ajouter
Toner
"Fleurs de peau", tonique à l'immortelle
soin visage et corps
Ajouter
organic floral water
eau florale immortelle
soin visage et corps
distillation traditionnelle par nos soins
Ajouter