eaux florales ScentSeas
ScentSeas skincare
our traditional distillation
our still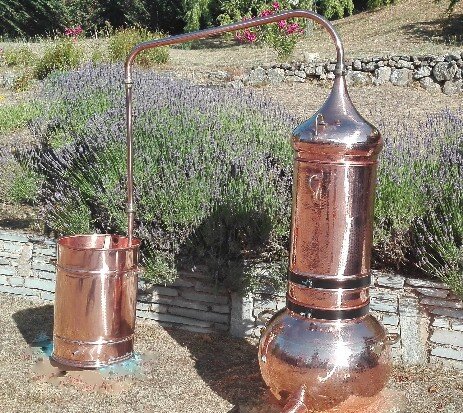 our essencier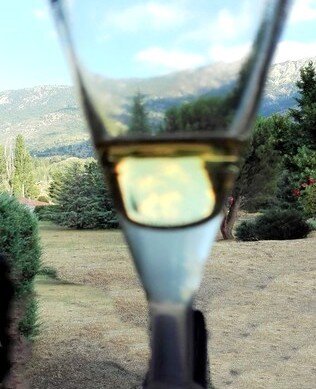 Our distillation is done in this traditional copper still. 
Flowers and plants are distilled at low pressure and 
the lowest temperature to obtain essential oils 
(which we 

incorporate in our lines).

 

Our floral waters
are exceptional in quality, very loaded with 
molecules. Our floral waters are not 

re-brewed and
therefore do not require preservatives. 
you could use them more than a year.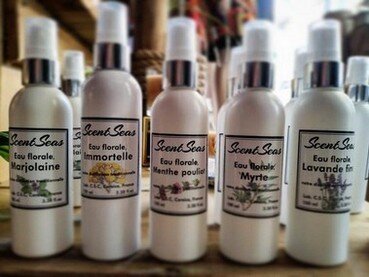 pennyroyal floral water
organic corsican distillation 3.38 floz
Add
botanical name: Mentha Pulegium Hydrolat 100% pure and natural, ultra concentrated, preservative-free,

wild harvested in Corsica, fresh scent, pleasant herbaceous.
Steam distillation of leaves and stems.
expectorant, soothes coughs; toning, refreshing,

it deeply cleanses the skin, tightens the pores and revives dull and tired complexions.




relieves skin itching (insect bites, chicken pox, shingles...).




also used in case of excessive sweating, hot flashes and to stimulate blood circulation.




against digestive disorders, biliary insufficiency (one teaspoon in a litre of water).

helps to induce menstruation or to relieve it.



eau florale marjolaine 100 ml
nouvelle présentation
Add
Marjoram 
awakens, brightens a dull and dull

complexion,

cares for mature, dull, acne-prones skin

antiseptic, astringent, suitable for all skin types.



In herbal tea, remarkable antispasmodic 
(gastric spasms

, bloating), 

strong activity on the 
nervous system, 

neurological and 

slightly anti 
depressant, migraines
100% pure and natural floral water, 
steam extraction in copper still July
Immortelle is astringent, toning, healing, anti-haematomas, stimulates microcirculation and collagen production, acts on skin diseases, wrinkles, cracks, stretch marks, joint pain. Indicated for the care of dull, tired, reactive, irritated skin, after sun, couperose.
100% pure and natural floral water, steam extraction in copper still in June and July.
Myrtle Hydrolat is suitable for all skin types.
● powerful tonic, astringent and anti-infective
● acne-prone, oily, mature skins
● one of the few hydrolats used for eyes when removing make-up or on irritated eyes.
● couperose treatment, blood circulation of varicose veins and heavy legs
● expectorant, acts against respiratory diseases
● relieves fungal symptoms
● rebalances emotional disturbances
● contributes to the improvement of states of addiction (smoking, etc..)
100 ml/ 3.38 fl.oz. Myrtus communis flower water
Lavender Hydrolat, from the mountains, is suitable for all skin types.
● powerful tonic, astringent
● purifying, cleansing, softening skin and hair
● heals, regenerates, acne, anti wrinkle
● couperose treatment, blood circulation of varicose veins and heavy legs
● refreshing, soothes redness, sunburn
● calms irritations, itching, stings
● relieves mouth ulcers and mouthwashes against bad breath
"Fleurs de peau " tonic with Immortelle completes our range with Immortelle. Our tonic lotion is made from plant extracts such as linden, cucumber, cultivated lettuce, sage and immortelle floral water. Applied with a cotton pad to a clean face, it will perfect the cleansing, remove impurities, excess sebum, tone, refresh dull and tired skin, and reduce fine lines. Its soothing and anti-inflammatory action, intensifies blood circulation, restores the balance and natural PH of your skin, improves skin tone. To be used up to twice a day if the skin is oily and acne-prone.
immortelle floral water
organic corsican distillation
Add
myrtle floral water
our corsican distillation
Add
officinal lavender floral water
organic corsican distillation 3.38 floz
Add
"Fleurs de peau", immortelle toner
natural formula
Add