masque purifiant et exfoliant à la canne à sucre
ScentSeas skincare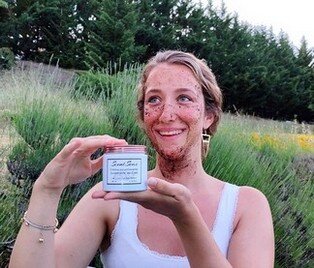 coffee nourrishing scrub cream, whole body
This exfoliating cream, rich in coconut oil,
enriched with myrtle essential oil, cane sugar 
and coffee, 
leaves the skin:

soft, nourished, silky,

reduces cellulite, orange peel,

decongest

anti-inflammatory it boosts micro-circulation, 

delays the effect of aging

caffeine boosts metabolism
200 grs/ 7.0 oz
[link:1]
[/link:1]
apply in a thin layer over the entire area to be 
treated; you can let it act as a mask.

Start gently exfoliating with circular movements.

Avoid the eye area. Rinse thoroughly.
coffee scrub cream 100 ml/7 oz
Add
masque velours
Purifies and remineralizes

recipe from the Indian Ocean

 

Kaolin is effective on wounds for its hemostatic and healing activity.

 

treats dry or irritated skin and mature skin.

suitable for all skin types, non-allergenic; associated with essential oils like geranium and lemon,

made with vegetable oils of sweet almond and coconut, it acts effectively on the epidermis by softening 

and absorbing the excess of sebum



Apply in a thin layer on clean skin, preferably after our exfoliation, leave on for 15 minutes.

Massage and rinse thoroughly.

To be used within 9 months after opening.
face mask 100 ml/ 3.5 floz
velvet skin mask, recipe from the Indian Ocean
Add
nourrishing coco cocoa scrub & mask
cocoa coco mask and scrub 
With a wonderful cocoa and brown sugar scent, 
this scrub revives the beauty of the
 complexion and deposits a soft and protective film on the skin.  
This scrub is formulated with sugar, coconut oil, cocoa butter, vitamin E and 
cocoa. 


• Prevent skin infections. 
• Reduce the symptoms of psoriasis, eczema and dermatitis. 
• Soften the skin and tighten the pores 
• prevent wrinkles, marks and aging spots. 
• balance of the pH skin. 
Cocoa is a powerful antioxidant that eliminates toxins in addition to having 
an invigorating and energizing action on the body. On wet skin, apply once 
or twice a week, massaging in circular motions from 
bottom to top, leave it a few minutes as a mask, then exfoliate rinse with clear
 water. Avoid the eye area
cocoa scrub 100 ml/ 3,5 oz
Add
Pacific scrub cream
This exfoliating cream rich in moisturizing oils and brown sugar allows in a single gesture to cleanse, erase 
and revitalize the face, the neck, the bust and the body, gently, nourishing and soothing Sugar and lemon 
are ideal for a satin skin and a radiant complexion. Our care allows oxygenate the skin for a better glow, 
reduces the appearance of fine lines and wrinkles 
to make it much softer
Apply to slightly damp skin, rub in circular motions and rinse thoroughly with warm water once a week; 
it removes dead skin, regenerates, stimulates micro blood circulation. You can continue the session 
by applying the velvet mask. Then hydrate. Do not exfoliate when the skin is sensitive, irritated.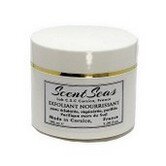 nourrishing Pacific scrub 100 ml/3.5 fl oz
nourishing scrub, recipe from the Pacific Ocean
Add